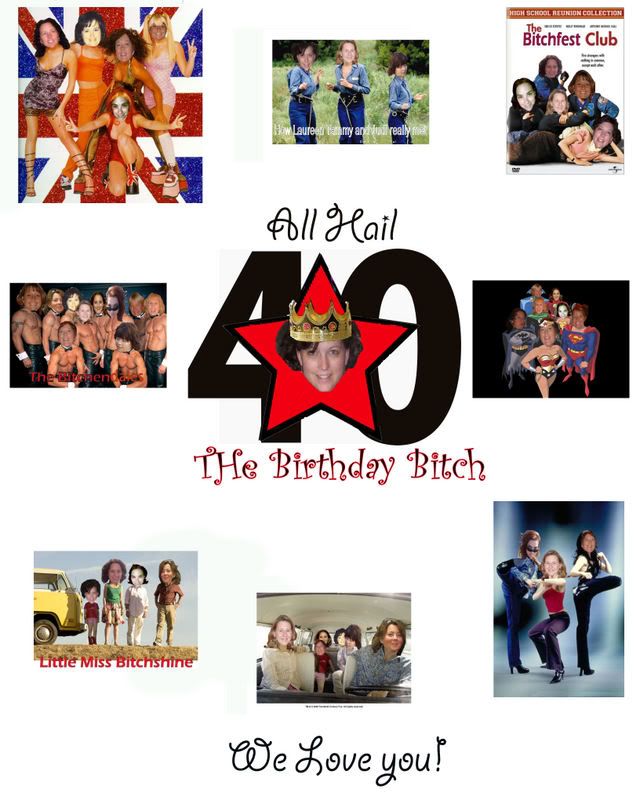 This is what I made for Sister Honey's 40th birthday. It's a 16x20 photograph made up of heads of all the girls who came to her party placed expertly on the wrong body.

Now first, I have to make a disclaimer that some of the ladies were less than helpful (or tech savvy) in providing me with a decent headshot, so I had to make due with really bad ones.

If I could I'd sit around all day putting heads on bodies they don't belong on, I really would. That and taking pictures. I love photography.

This obession with "heads" started when my best friend had to do a High School French project and we made a nice poster. It included one measly French phrase, but had hours of work putting heads on other peoples bodies.

And not just ANY heads. This was the 1990's and it was the presidential election between Bush Sr, Bill Clinton and Ross Perot. Dessert Storm was around the same time (if I wasn't so lazy I'd do a tad bit of research and get the actual
dates right. But I have two kids and I'm surprised they've let me type this long. Peanut butter crackers...what can't they do?).

So this poster was made up of our beloved political fodder of the day on bodies from fashion magazines.

My favorite was a blushing Bill Clinton looking bashfully down at his/her exposed knees while Bush Sr. offered him a flower.

There was also a group photo of them chatting in a manner that made us call the picture "Do you ever get that not-so-fresh feeling?"

After our intial project I realized I could make all our dreams come true simply by opening our high school year book. Now I had access to heads of all the boys we had crushes on! We married them, had families, beach houses, rode horses, kissed on the beach... it was the closest we'd ever get to them. Pathetic!

This head game was made possible by my dad's stack of Newsweeks, our stacks of Sassy magazine and the fact my dad owned a copier business that allowed me to copy and enlarge the heads to the correct size. Now with the advanced computers I can use my photo software to accomplish the same thing with less mess, effort. And no gluing.

Because I couldn't think of a way to earn money making heads I decided to play with heads in the only way I could think of, I got a degree in Psychology! lol! But seriously, wouldn't you pay for something like this? I think Bossy could use my talents, don't you? Just look at her John Cusack video...I could give her the life of her dreams.

Or Mrs. Fussypants, who I know likes doing adventerous things with other peoples bodies (ok, that sounded really wrong lol!)

Jimmy Eat World wants me to throw it out there that you too can hire me to create wonderfully funny gifts for your recent High School Graduate or 40 year old sister. So sure, if you really want something like this just let me know ;)


What's that? You want to comment? Just click on the itty-bitty words below that say "Gimme Some Sugar". Can you see them? Good. We can't wait to chat with you.