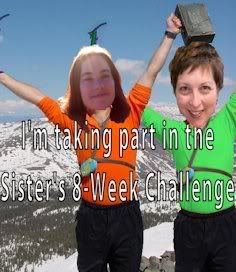 We are entering Week Four! Can you believe it? The participation has blown mine and Sassy's collective minds. We are humbled by the comments we receive and the way people are joining in. I think the concept of getting fit from the inside out is striking a chord with many people.

Since I gave birth to Logan almost six years ago, I have tried to get back into shape with very little success. The support and accountability we have here on the ol' blawg has made things so much easier.

Another thing that has really made a difference is that I'm not in a huge hurry to have my ideal body. This is more of a lifestyle change and taking it one day at a time has taken the pressure off. That's not to say that I'm super excited about putting my swimsuit on and going out on the boat any time soon, but you know what I'm sayin'.

The one thing I seem to struggle with is exercise. I don't have time for the gym. Going for a walk bores. me. to. tears. I hate it. The thought of putting on my walking shoes and then just, you know, walking is pure torture.

I'll be walking along thinking how pretty the green grass is and considering all that I'm grateful for. And then, I am ready to be done. Except I still have to turn around and walk back home. It's enough to make me cry. But I still do it when I have to. I walked about three miles today. Two by myself and then one with Logan.


I have learned that when it comes to exercise I must be entertained. Tom, Logan and I started playing tennis, and we are having a blast. I used to play with Sister Big when her kids were little. They would swing and teeter-totter and merry-go-round while we chased after balls and got very sweaty. And had fun. I forgot how much fun it was.

When Tom can't play, I take Logan to the courts. And if you think playing tennis with an almost-six year old isn't exercise, you are wrong, sir. That boy can hit a ball. And it doesn't always
come anywhere near me, forcing me to run my getting-smaller-every-day butt all over the court.

And I can feel a difference already. My stomach is flatter, and that makes me feel so very good. I have more energy and I feel happier. And that's the goal, yes?

What are you going to do next week to MOVE YOUR BODY? What have you struggled with this week? Share your goals for the week.

If you want to take part in our challenge, catch up here. We post a mid-week check in each Tuesday. Sassy writes some inspirational/fun/informative yada-yada and then everyone posts links to his/her blog so we can all go over and do some cheer leading and advising. On Friday's we prepare for the next week of getting Fit From the Inside Out.

And if you want some frump fighting tips, go here and say hi to Fussy.


What's that? You want to comment? Just click on the itty-bitty words below that say "Gimme Some Sugar". Can you see them? Good. We can't wait to chat with you.