It's Fight the Frump Friday where we strive to
help women get their sexy back. Or at least help them not look like

that

frumpity-dump mom driving carpool. You know the one I'm talking about.

Today's tip is one near and dear to my heart. It's focuses on grown women wearing character t shirts. Outside their home. (Frankly, I don't even like to see it inside the
home.) (I also know it is none of my business what they do inside their home. I'm just sayin'.)
I'm not going to relegate this to

only

the character t shirts though. I'm going to also include any t shirt that has cute little sayings, cartoon characters, arrows pointing toward the belly region proclaiming that you have a baby on board, sweet pictures of angels in heaven, etc. (Or Count Dracula. Like Sister Sassy's wearing to the left. Bad Sassy!)

Unless you're working in the garden or exercising, those shirts ought not be on your body. Not if your goal is to look and
feel like a smokin' hot momma.

Today, I'm going to share with you some fabulous options that are just as comfortable as your cotton t-shirts, only more flattering. These shirts will make you look (and feel) cute and sassy without any extra effort when you run in to get milk at the grocery s
tore or are at the park with your family.
Now, I know some of you love your t-shirts. You might be a little attached to them. And that may be because you have been wearing them since 11th grade. Am I right? Trust me on this one though. That sweet little Pretty in Pink shirt? It stopped looking
good after you graduated from high school.

And I know you have amazing memories of going to Lilith Fair with your girlfriends. I do too. I was there. Four times. I bought the t-shirts. I wear them under my sweatshirts in my backyard sitting by the fire pit. Roasting marshmallows and drinking beer.
Are you ready now? I'll take baby steps, 'k?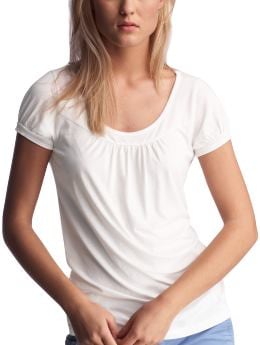 If you are reluctant to give up the basic t, how about trying these instead? They're soft, comfortable, and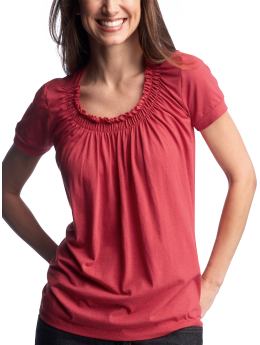 yet they offer a little something more.

Cute huh?

Are you feeling a little more daring now?

Check out these options.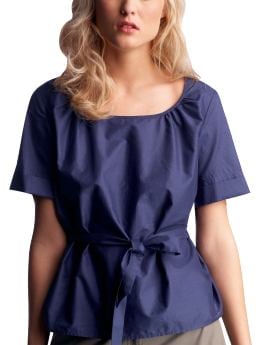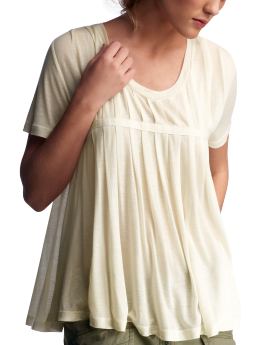 Aren't they
adorable? Just pair them with your jeans, capris a cute little skirt. Maybe a pair of shorts.
You will look as good as you will feel.
These tops can be found at Gap and Ann Taylor Loft for a very reasonable price.
If you are more cost-conscious, check out your local resale store. (I loves me a good resale store. There is nothing like the thrill of finding a really good deal.)

Today, I went to my favorite resale store and bought a pair of DKNY jeans, a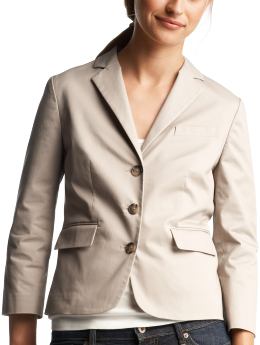 suh-weet cropped camel-colored jacket (tags still on) a pair of brown trousers (tags still on), a cute black v-neck top (tags still on) and a J Crew fleece vest (because it will be winter here for another 18 months) all for $27.00. You can't be that, huh?
For more FIGHT THE FRUMP fashion help, go visit Fussy. She'll hook a sistah up!
(And thanks to Sister Big for coming up with my title.)

What's that? You want to comment? Just click on the itty-bitty words below that say "Gimme Some Sugar". Can you see them? Good. We can't wait to chat with you.