I have a confession. I ate a cheesecake last night. Not the whole thing, just half of it. It's not that big, but still. I didn't need half. JimmyEW and I decided to get cheese cake as a little celebration of the day we discovered each other. So I guess to celebrate I decided to gain a pound or two. Not that smart, huh?

And I think I'm smart enough and all, but for some reason I make bad decisions regarding food. I know I know, who doesn't? But really, I am tired of being overweight.

Isn't it sad how we women get sucked into all this from the minute we notice our bodies? I always felt fat. Always. I remember being in elementary school and my friend telling me I had
legs like chickens... not skinny, but DRUM STICKS! Big and meaty on top and skinny at the bottom. Thanks.

Of course it goes the other way too. Women who weigh way too little.

When I was a freshman in High School I realized by accident a girl was anorexic . I wasn't friends with her so I hadn't paid much attention to her since the year before. Suddenly I looked at her and realized that over the summer she had turned into a skeleton. And sadly the reason I noticed this was because I was going around the room looking for people to distribute my extra pounds too. Sad, huh? (I actually went to our school counselor to tell her my fears about the skinny girl and they ended up doing an intervention.)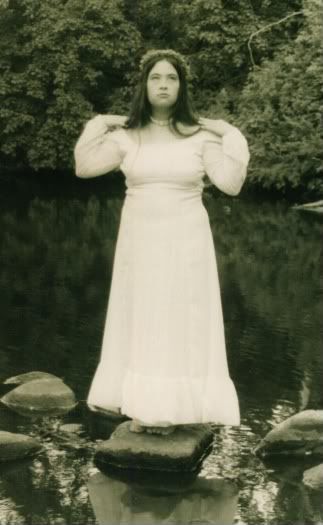 I thought because I was only 5 feet tall that I was supposed to weigh 100 lbs because the other short girls in my school were both VERY skinny and really had bodies like 10 year old boys. I had boobs and hips. And as we now know, thighs. But I wasn't fat, I was curvy and I'm pissed now that I didn't appreciate it.

Lately I've been going to blogs like Big Fat Deal and Shapely Prose, about fat acceptance. I love what they stand for. I love what they say, I love them... But I still don't want to be overweight.

They talk about how you can be overweight and still be healthy and that is great. But I'm not healthy. I have high blood pressure, glucose intolerance and possibly high cholesterol chasing after my ass.

I know for me exercise is the key. I've always known that. I have dreams about running, and in my dreams it always feels like I'm flying. Such an exhilarating feeling!

Last spring I started running-or really jogging fast-and I loved it. And you know what? Without dieting my body started to trim up and I began feeling healthy and strong. AND my eating was much better. It made the world of difference. But Christmas came around, as did the candy and I gained back 10 lbs. Since then I have struggled to make my way through our Michigan blizzards to go work out.

What I really need is a treadmill at my house so I don't have to pull my weary body out of bed at 5:30 am and drive to my work to use their facilities. It would make it possible for me to work out every day. Running every day would make a world of difference to me in so many ways.


So as soon as I get a house (which JimmyEW and I are in the process of working through) (thats another rant), I'm getting a treadmill and I'm getting in shape. But until then... I need to stop eating entire cheesecakes!

What is something you've been trying to accomplish and what has held you back? Or what have you accomplished that you worked hard for? Someone, inspire me!