Giving. We give of ourselves all the time, don't we? To our partners, children, family, jobs, friends, churches, social causes. We give time, money, energy, love, resources. The list can go on and on.

But I'd like to know what you give to yourself? It's so easy to get lost in the hole of caring for others that we don't take the time to care for ourselves. I know we even may have a sick little part of us that likes being a little bit of a martyr, a little bit over extended so we can have other feel sorry for us or to feel grateful to us.

We do everything because its just easier to do it ourselves than to try to get others to do it or we're just so used to doing it all, we don't bother to ask. Its easier to for us to do it than to have expectations of others and risk being let down if they don't follow through. Or maybe you just have no one to help you and you really have to do everything yourself. That sucks.

Giving of ourselves, either joyfully or begrudgingly, is exhausting.


And consequently we feel guilt for doing nice things for ourselves. I know I, for a brief moment on Sunday, felt a twinge of guilt for buying a new iPod. I didn't want people to think I was a spoiled princess because my husband was coming to my rescue with a shinny new trinket.


But, I NEED my iPod. It increases my quality of life exponentially, and I recognize this. I, probably like a lot of people, have a hard time spending money on myself. I'll spend it for everyone else but me. So when I dropped nearly $50 on a new iPod you better believe I felt like I needed it.


But this is what I have to say to you. You are only as good as you believe you are and believe you deserve. If you don't think you're worth taking care of, then you're going to project that image of yourself to others.
Be an inspiration for yourself, love yourself, give to yourself. If you start treating
yourself as you treat others I bet you'll see a change in how you feel. Unless you're mean to e
veryone.. in that case maybe you should X out of here and hope no one saw you.


And if you have children, they will learn to expect what you expect. If you expect nothing they will grow up to expect nothing themselves. You are their text book on how to be an adult, what it means to be a man or woman, remember that you're setting a stage for them.


So, today for our check in, I don't care so much about how you did this last week..ok, I do care, but that isn't my focus. If you did good, wonderful, if you did bad, shake it off, each day is a new day.

What I'd like to know is what you intend to do for you during this 8-week challenge. Even if you simply take a long hot bath with a book, treating yourself to a ma
ssage, meeting a friend for coffee or replacing an old broken friend with a newer sleeker versi
on that is lime green and named Lola. Just so long as you take the time to recognize that you are worth giving to and that you need some self care because if you don't recharge you will be left haggard tired and resentful. Or is that just me? :)


What I'm going to do for me, I already did a bit. I got Lola, she's my workout buddy, isn't she pretty? But it is
technically part of my Mother's Day present..mostly to reconcile the twinge of guilt I felt.

But what I'm really going to do for myself is this.

After the first four weeks of the 8 week challenge, I'm going to treat myself to a 1/2 hour massage. The last time I went to my local massage therapist I left feeling bett
er than I had in a long time. I felt like I could fly, it was that good. So tell me, what will you do for

you

while you're working to reach your goals during these 8 weeks?


If you plan on blogging about giving to yourself, or if you want
to blog more about your 8 week goals and how you did, please sign in to Mr. Linky below.

We would love to have you add our button to your blog if you're taking part in the challenge.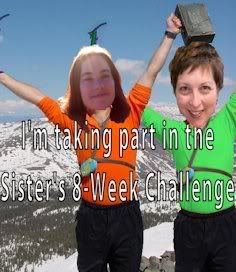 What's that? You want to comment? Just click on the itty-bitty words below that say "Gimme Some Sugar". Can you see them? Good. We can't wait to chat with you.