I didn't think I'd ever publish this blog because I just didn't think it was that good. But its a Saturday, I'm way tired and I'm downstate sitting through a wedding and feeding the kids candy to keep them quiet. So here you go. Its all I got to give right now.
Sister Mary Elephant emailed me this article thinking it would be good fodder for our blog, and she was right. Take a few minutes to read below and please refrain from throwing hard objects at your computer screen while you read
The Good
Slave's
Wife's Guide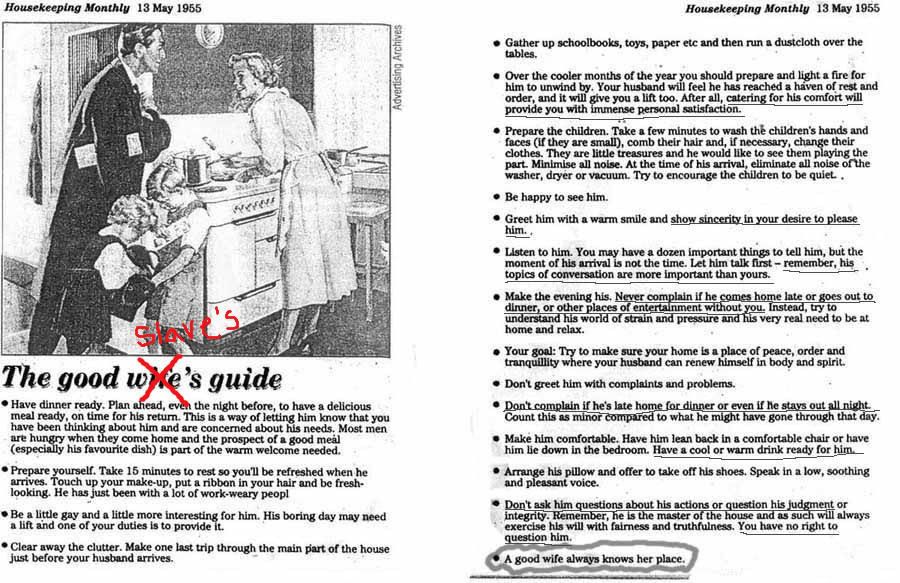 So Whoa, right? This triggered something in me specifically though because I used to always hate the term "good wife". JimmyEW would sometimes tell me I was a good wife and I would always say accusingly "what does that mean?" He'd just shake his head and quiet down.
It was weird how that term always struck a nerve with me, something about it I just hated. I think maybe it had something to do with my belief that a "Good Wife" had to be subservient to her husband, be a good housekeeper (which we all know I fail at miserably) and was the lesser sex. But I think there may have been more, it could have been a subconscious reaction due to the fact I didn't love him and how could I possibly be a "good wife" if I didn't love him?
I would never have guessed that my lack of love may have been the root of my dislike of the term until our
marriage meltdown
occurred. Now that our relationship is so much more equal emotionally I beam when he tells me I'm a "Good Wife". I now know being a "Good Wife" doesn't mean making sure there are no toys to trip on when he walks in the door but instead making sure he knows that he is someone I love and respect. At least it turns out that is what it means to me.
But I'm interested in what you have to say. What does being a "Good Spouse/Partner" mean to you? And I'm saying spouse/partner so everyone can give their two cents regardless of gender or orientation. And you single people can answer too because I'm sure you have some ideas of your own.
Also, what do you consider a good husband/partner/wife to you?
What's that? You want to comment? Just click on the itty-bitty words below that say "Gimme Some Sugar". Can you see them? Good. We can't wait to chat with you.