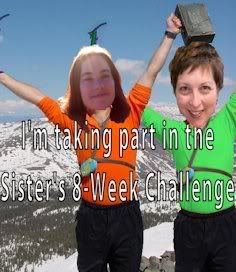 I am by nature a morning person. I love to get up with the birds and putter around the house while the coffee brews. Then I like to sit and enjoy my coffee while watching a 90210 rerun or reading the paper. That is my ideal morning.

Since I had Logan, things have changed. I'm a working mom, so when I get home in the evening I devote my attention to Logan until he goes to bed. Then I devote my attention to my husband until HE goes to bed. Then I am completely and blessedly alone.

I want to wallow in the peace and quiet of no one wanting a single, solitary thing from me. I can watch my favorite shows, focus on my current book, read my favorite blogs. Often I become so relaxed and happy all by my lonesome that I don't go to bed until 11:00 or 11:30 at night.

Which isn't bad. Except I can't fall asleep without watching a little bit of the news (who am I kidding? I'm usually watching something on BRAVO.) so that I can get completely into sleep mode.

Because I stayed up too late, I can't drag my tired butt out of bed as early as I'd like. But I eventually pull it together, get my kid dressed, give him breakfast and hop in the shower and get started on my day.

When I arrive home in the evening, I am a crab ass. There's just no other word for it. I am
grumpy and tired and crabby. I snap at my poor husband and he'll respond with,

"That's OK. I know you're just really tired. Will you please start coming to bed earlier?"

How dare he, right? Seriously, how can you get mad at that? Not only does he have that one queer eye, but he is also the nicest man around. Not that I ever tell him, but whatevah.

After Sister Big told me I was a miserable sad-sack during our "come to Jesus" chat in March, I've been working on this whole Getting Fit From the Inside Out. I have made some great changes, implemented some new lifestyle routines, and I have started going to bed earlier.

Not every night. But more often than not. But here's the exciting thing I found.


Did you know that people who get more sleep, find it easier to lose weight?


Research also shows that people who get more sleep, have a better sex life. Uh-huh, it sho 'nuff does.

So, let's recap what we learned during this, our Sixth Week of Getting Fit From the Inside Out:

More Sleep = Weight Loss AND Great Sex.

You're welcome.

For more frump fighting tips, go see Karla this week. Fussy's busy seeings how she just gave birth to her 18th or 19th son.


What's that? You want to comment? Just click on the itty-bitty words below that say "Gimme Some Sugar". Can you see them? Good. We can't wait to chat with you.