Sassy and I live in Northern Michigan where we spend a lot of our time at the beach or on the boat. In the summer, that is. The other nine months of the year you will find us huddled in groups trying to keep warm while our nostrils grow mini icicles.

Anyway. Summer is approaching and we need new swim suits. Which we will wear in front of other people.

A few weeks ago that would have struck terror in our collective hearts. That was before we began getting fit...say it with me... from the inside out. That's what I'm talkin' about.

I know I won't achieve my ideal body in time for boating season, but this year I'm not going to let that stop me. I have a choice to make: Live Large or Stay Home. I choose living large. Honey Bunch ain't staying home this year.

I've always felt bad seeing those moms at the beach who never take off their big ol' t-shirt. Even when they go into the water. You just know their hating on the way they look and really would rather be anywhere else but there. I've never done that, but I have hidden behind my kid, kept my cover up on, or just stayed home and missed out on all the fun.

Getting Fit on the inside is giving me the confidence to not care what others think. I'm going to
enjoy my family, have a great summer and find a swimsuit that rocks. the. beach. I'm going to work my thang.

Remember the beauty contestant from England we talked about a few weeks ago? She is a size 16 and we all decided she looked great because she appeared confident and dressed for her body type.

Here's a picture of her in the swimsuit competition. It may not be my first choice, but she doesn't look bad, does she? (Special thanks to my girl Dr. M for the head's up.) Girlfriend seems pretty comfortable in her own skin and and is working her shizz.

I have been searching for the perfect suit to wear this summer and there are some great ones out there. Here is the one I have decided on.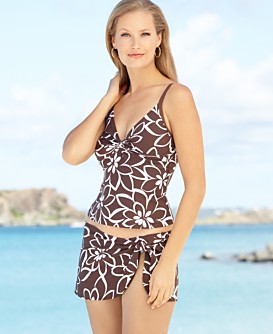 Isn't it so cute? I'm really liking the brown and I love the skirted bottom. It's not like your typical skirted bottom that can lean towards frumpy.


I also really like this one. It has a
flirty scalloped edge. And it's cute.

(Is it just me or do these models look about 14?) (Why aren't they modeling for the junior department?)



And I may consider this one. Or I may just buy all three.

What are you going to do this summer, that you avoided last year?

Are you going to go biking with your kids?

Dance with your husband at your friend's wedding?

Tell us how you're going to Live Large.



For more frump fighting tips, go see Fussy.




What's that? You want to comment? Just click on the itty-bitty words below that say "Gimme Some Sugar". Can you see them? Good. We can't wait to chat with you.